U Got This! Bystander Intervention Online Training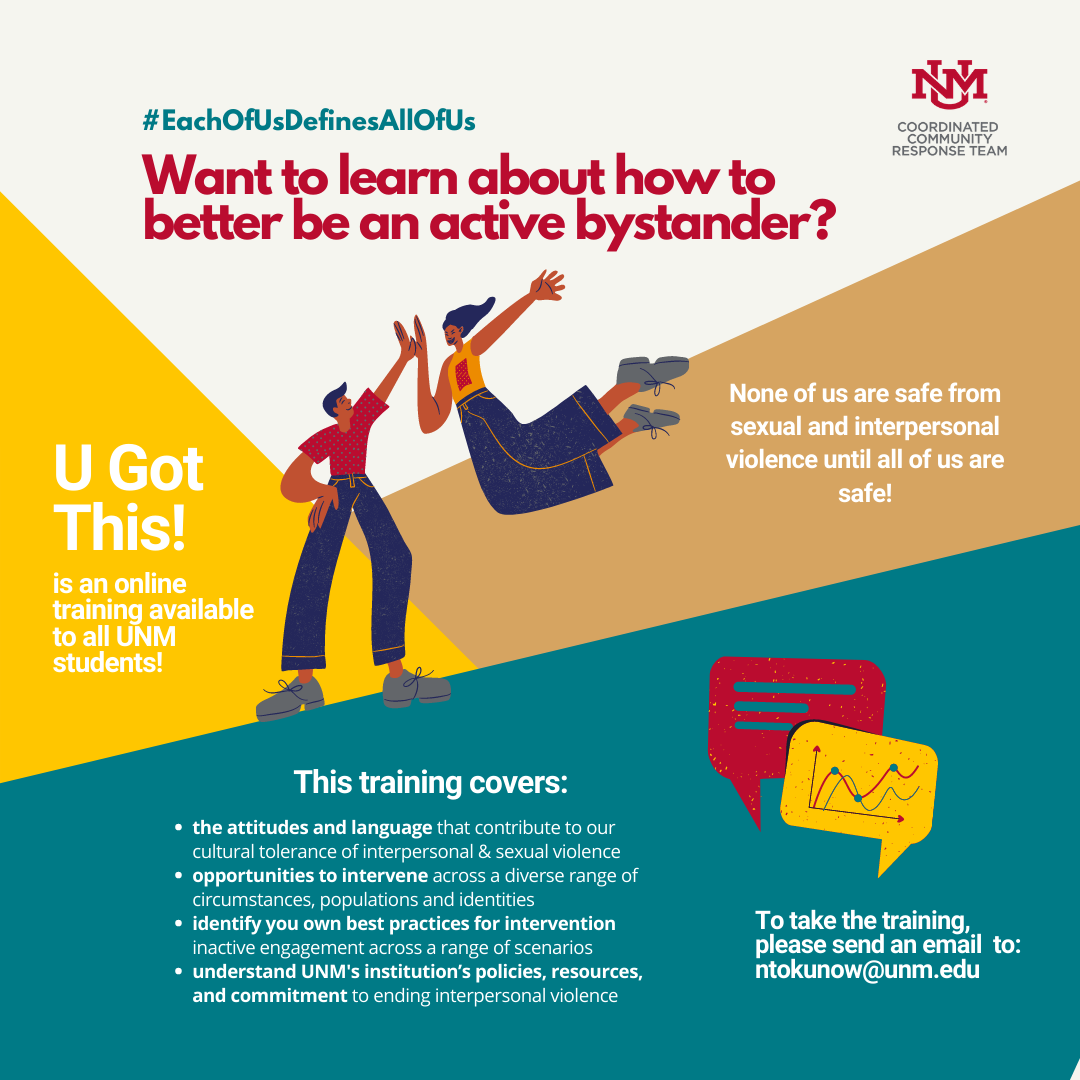 The U Got This! bystander intervention online training is available to all UNM students. While it is a voluntary program, we believe that all UNM students would benefit from this training and encourage all that are interested to complete it. We are offering a discussion-based lesson plan for those staff or faculty that would like to include this training in their course or presented to their student employees or student groups. Individual students are also welcome to access the training and engage in a one-on-one facilitation with the grant's Project Coordinator. Please reach out to ccrt@unm.edu with any requests for access to the program. 
IT'S A DIALOGUE, NOT AN INFO-DUMP
U Got This! redefines how students engage with bystander online training. We've partnered with Jellyvision, the online software development company best known for creating the You Don't Know Jack games, and infused our signature tone and humor with their technology. The program's Interactive Conversation software responds to the way the user engages with it. If a user gives a snarky answer to a question posed, they'll get a snappy response.
CONTINUE THE CONVERSATION
How can we help create a safer, more supportive campus community within a large, spread-out population? By meeting your students where they are. U Got This! is delivered through three 10-20 minute online training modules and is accessible on desktop, laptop, and mobile devices. Engaging with our short, dynamic training modules at different intervals over a period of time will help to optimize learning retention and encourage your students to incorporate intervention values into their day-to-day lives.
[This online bystander training is Campus SaVE & Title IX Compliant.]