SUNY Student Conduct Institute Training for Conduct Staff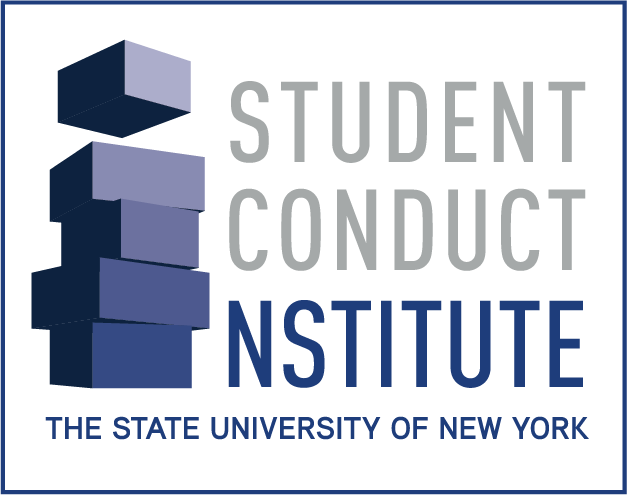 In partnership with the Office of Equal Opportunity and the Compliance Office, the OVW grant will be using modules from the SUNY Student Conduct Institute to train staff members who are involved (directly or indirectly) with the student conduct process. If you are interested in learning more about the training, please contact Title IX Coordinator, Angela Catena at acatena@unm.edu.
Overview of Institute
The SUNY Student Conduct Institute (SUNYSCI) provides in-depth live and digital training to student conduct officials, hearing officers, Title IX officials and other college personnel in due process, trauma-informed investigations and adjudications, questioning and weighing of evidence, and other crucial best practices in the investigation and conduct process that comply with relevant case law, Title IX guidance, the Clery Act, and New York Education Law 129-B.
The Institute complements and enhances each member institution's practices by offering robust, hyper-local live trainings within a short drive on a semi-annual basis. Additionally, we offer a suite of digital trainings that cover federal and state mandates, along with a Casebook updated regularly with the latest developments in the field.
All participants attend an initial live program covering the essentials of compliance and best practices in the field. Then, your staff can be retrained annually through either live or digital training programs offering basic, intermediate, and advanced content. Unlike other training platforms, our single fee covers participation for all eligible employees and students, including Title IX Coordinators, University Police and Public Safety officials, Conduct officials, Residence Life staff, investigative and adjudicative staff, Hearing Board Members and Panelists, and other similarly-situated and tasked employees.
In addition, the Institute provides a tracking platform that allows member institutions to easily pull training credentials for each participant, making compliance reporting a more efficient task.  Everyone benefits from accessing content, whether you are a community college or university center.  We are excited to support institutions of higher education throughout the Northeast in this way.
The Institute, which is open to any public or private institution of higher education in the Northeast, is a joint Project of the SUNY Student Conduct Association (SUNYSCA), SUNY Title IX Coordinators Association (STIXCA), and Office of General Counsel. The Institute is funded through the New York State "Enough Is Enough" grant and from contributions made by member institutions. The Institute is led by the Director, Dr. Gemma Rinefierd, in consultation with the Principal Investigator, SUNY Associate Counsel Joseph Storch, and a steering committee of professionals from SUNY campuses who are members of participating institutions.